DATE: Wednesday, September 26, 2018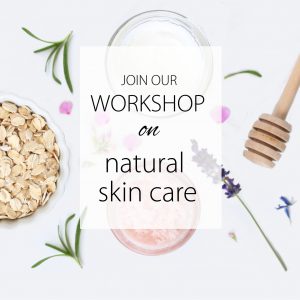 TIME: 7 pm – 9 pm
COST: $20 (please RSVP as seating will be limited)
Did you know that women use an average
of 12 products a day on their bodies, which
contain an average of 168 different chemicals?
These chemicals are absorbed through your skin right into your body's systems! Thankfully, there are some beautiful, all-natural alternatives that also have great results on your skin!
Join us for a fun and informative workshop where you will be given the opportunity to try out the Love Yo'Self Naturals line of facial products while our host, Andrea Bloomfield, guides you through the step-by-step process of giving yourself a facial.
You will also learn some fun and easy face mask recipes that you can whip up at home with ingredients that you likely already have in your kitchen!
PLEASE NOTE:
This is an interactive workshop where you will be washing, cleansing, and toning your face, so don't wear anything fancy and bring a hair tie or headband with you.
RSVP:
Contact Gennette by email at info@genuinewellness.ca or call at (519) 459-0414. You may also send a private message to our Facebook page Genuine Wellness – Natural Nutrition.
ABOUT OUR HOST ANDREA BLOOMFIELD
Andrea Bloomfield is the owner and creative mind behind Love Yo'Self Naturals, a business located just outside of Strathroy, Ontario, that makes handcrafted, natural skincare products, using high quality, and locally sourced ingredients.
Her passion for living a clean and healthy life started a decade ago when she entered her 30s and started experiencing changes to her own complexion and body. She started developing adult acne, had low energy, and gut issues. After much research, she made changes to her diet, removed harmful toxins and chemicals from her home and took the leap into making her own skincare products.This modern hippie couldn't deny the positive impact these changes were making; clear and glowing skin, healthier hair and an alert and energetic mind and body! Family and friends also noticed the difference.
The overwhelming support and positive feedback she received about her products made it clear she had found her true calling and passion. In June 2016, Andrea set up a stand at the Downtown Strathroy Farmer's Market and that is where Love Yo'Self Naturals was born.