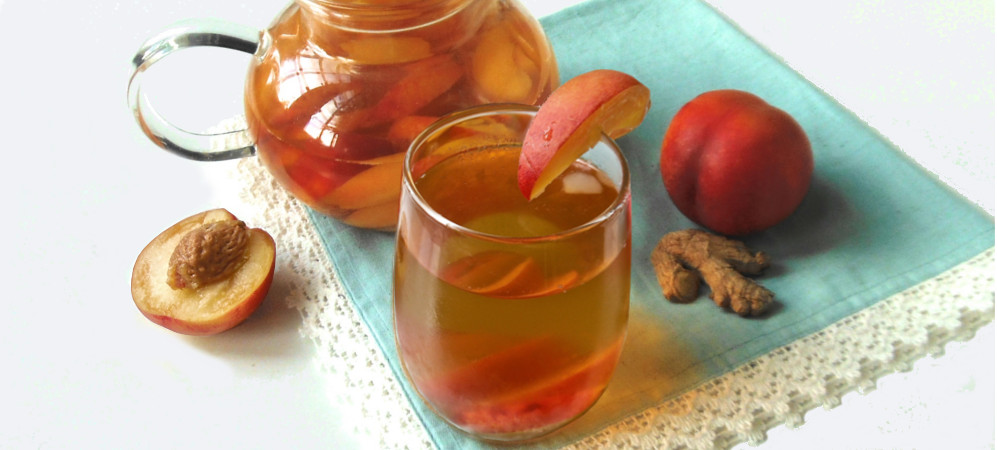 A nice cool glass of good quality water should be a summer essential to keep you hydrated during the summer heat, but if you're looking for some variety, here are some drink ideas to help you stay cool and feeling refreshed.
Not only will they taste great, but they also are very cost effective. Best part – you control the ingredients to keep it healthy!
ICED GREEN TEA
Store bought iced teas can be overly sweetened with refined sugar, or in some brands, high-fructose corn syrup. Some manufactured iced teas may also contain artificial flavours or even caramel colouring.
It's easy to brew your own iced tea at home, without using refined sweeteners or chemical additives, and simply pop it in the fridge to cool. Experiment by blending different teas together. You can also add fresh fruit, herbs, or natural fruit juices to create a flavour that you like.
RECIPE: PEACH GINGER TWIST ICED TEA

INGREDIENTS:
5 cups       water1 tea bag   green tea
1 tea bag   peach ginger tea
1/2             lemon, juiced
fresh peaches (organic), sliced ~ optional
DIRECTIONS:
Heat water and pour into a teapot. Add teabags and let steep. Let water come to room temperature and remove tea bags. Once cooled, add freshly squeezed lemon juice and stir. Chill at least 1 hour before serving. Add fresh peach slices as a garnish, if you wish.
INFUSED WATER
Drinking water can be refreshing and fun by infusing it with fresh fruits, herbs, and vegetables. Use local, organic, freshly picked produce that's in season for ultimate flavour and cost savings.
RECIPE: CUCUMBER LIME MINT WATER
INGREDIENTS
1 liter     water
1/2         cucumbers, sliced
2/3         limes, sliced
handful mint leaves (fresh), rinsed
DIRECTIONS
The amount of each ingredient you use will depend on the size of each and your taste preference. Add sliced cucumber, lime, and whole mint leaves to water and chill for at least 1 hour before serving. For best flavour results, infuse overnight in the fridge.
KOMBUCHA
Kombucha is a fermented tea-based drink that naturally contains probiotics to support healthy digestion.   It's easy to make at home, but you need to have a friend who is willing to give you some of their "scoby" and starter tea. Scoby is an acronym for Symbiotic Colony of Bacteria and Yeast. It sounds bad, but the scoby is essential to the brewing process. Kombucha can be made into many flavours by adding fruit to the fermentation process. The result is a wonderful tasting, slightly fizzy drink that's better for you compared to pop.