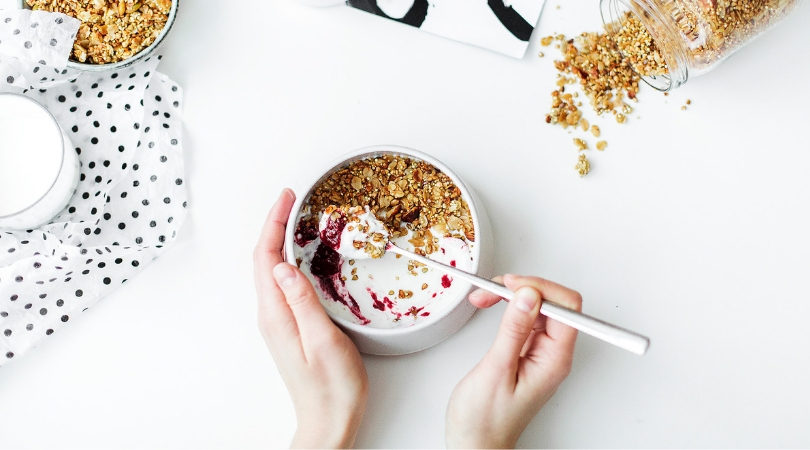 Have you ever wondered if you're getting enough probiotics from your yogurt?
I came across an interesting study done at the University of Toronto, published in the journal Nutrients (2017, 9 400).  Here's what I learned:
Health Canada requires food products labeled as "probiotic" to contain at least 1 billion colony forming units (cfu) per serving of a recognized probiotic strain to be eligible to display the health statement promotes a "healthy gut flora".   
Not all yogurts are considered "probiotic".  Not to say that they don't contain bacterial culture.  They just don't contain the specific bacterial strains recognized by Health Canada known to offer probiotic health benefits.  
Some yogurt companies add Health Canada approved probiotic strains to the yogurt so that they can advertise health benefits.  However, most yogurts in the study only offered 1 billion cfu per serving and only 1 or 2 different probiotic strains.  That's generally not enough probiotics per serving to get the health impact shown in clinical studies.
The conclusion of the study was that "probiotic food products sold in Canada could offer a variety of health benefits depending on the strain(s) and dosage they contain."  
"That being said, the probiotic dosages contained in most food products are currently too low to provide the benefits shown in clinical trials."
For example, the report indicated it takes 8-25 daily servings of Danone's Activia yogurt (1 billion cfu per serving) to get the needed dosage of probiotic to reduce bloating, gas, and improve stool consistency demonstrated in clinical trials.
Danone Canada responded to CBC's Marketplace in 2018 that the study only referenced the level of probiotics stated on the label, and did not test the actual level of probiotics in the yogurt, which is over 10 billion cfu per serving when it's manufactured.
Still, when comparing yogurt to probiotics in capsule form,  even 10 billion cfu is at the low end of the spectrum. Probiotic supplements can be found with 30-50 billion cfu per capsule, and even as high as 120 billion cfu per capsule. These are also the levels at the expiry date, so at the time of manufacture the probiotic levels in each capsule are higher than stated on the package.  
Unlike yogurt, probiotic capsules typically offer more than just 1 or 2 strains of probiotics, so a wider variety for the gut.  Probiotic supplements can be formulated to target specific symptoms in the body by blending 8 or 12 different strains known to assist with those specific symptoms, whether it be gas/bloating, constipation, weak immune function, urinary tract infection and many other symptoms.
So, it's not just the dosage of probiotics that's important, it's also taking the right strains in the right combination depending on what your health goal is.  
Although one serving a day of yogurt does not likely provide enough probiotics, or variety of probiotic strains, to obtain the health benefits shown in clinical research, a good quality yogurt can offer essential nutrients beyond probiotics. Yogurt is a source of protein, calcium and other minerals. Just be sure to avoid yogurts high in added sugars, artificial sweeteners, or artificial flavours/colours. 
DISCLAIMER
Nothing contained on this website should be construed, nor is intended to be used for medical diagnosis or treatment. It should not be used in place of the advice of your physician or other qualified healthcare provider. Should you have any healthcare related questions, please call or see your physician or other qualified healthcare provider promptly.
Always consult with your physician or other qualified healthcare provider before embarking on a new treatment, diet, or fitness program. If you have any specific questions about these matters you should consult your doctor or other healthcare provider. If you think you may be pregnant you should speak to a doctor or other healthcare provider, and if you think you may be suffering from any other medical condition you should seek immediate medical attention.
S

hop this pag

e